Supporting Wellbeing wins premiers' award for innovation
Supporting Wellbeing has been selected by Canada's premiers as the NWT's winner of an award for innovation in mental health and addictions care.
Canada's Premiers are pleased to present the Council of the Federation (COF) Award for Innovation in Mental Health and Addictions Care. Presented in each province and territory for an initiative that positively impacts mental health and addictions care, this new Award will recognize and support one individual or organization from each jurisdiction that excels in the field.
Supporting Wellbeing was honoured to be the recipient of this one-time award. Project Director, Rachel Cluderay was presented the award by Premier Caroline Cochrane and Minister Julie Greene to "recognize and support individuals and organizations excelling in the field [of mental health and addictions care]." Supporting Wellbeing was awarded a certificate as well as $5,000 to go toward our work.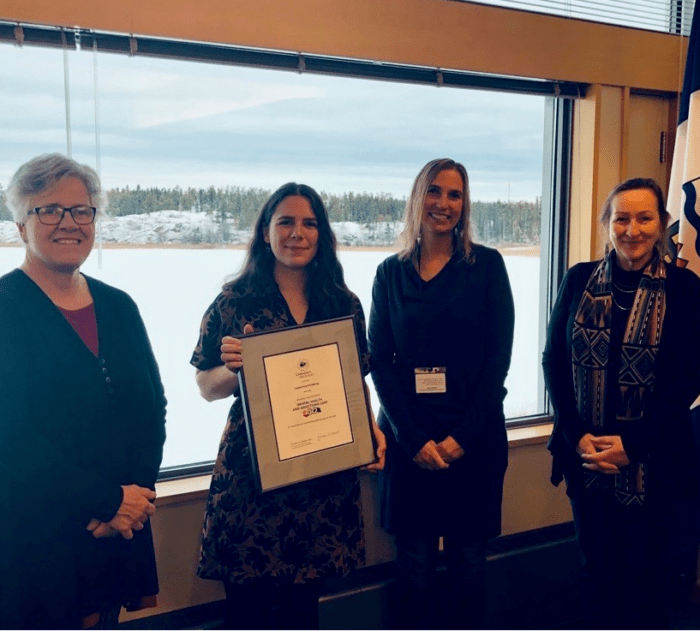 Mental health and addictions challenges continue to impact many Canadians. Being on the land is very important to residents of the Northwest Territories. Our traditional knowledge, languages, and cultural practices are all connected to the land. Culturally appropriate and trauma informed approaches are key to helping residents with their mental health and addictions challenges given the prevalence of trauma experienced because of colonization Supporting Wellbeing will help to eliminate barriers and provide opportunities for more people to go out on the land and know that they will be supported."

-Premier Caroline Cochrane
Upon receiving the award, Cluderay shared with the Premier how Supporting Wellbeing was created and the future she envisions this work will create,
"Supporting Wellbeing was born out of a community-identified need. On the land leaders gathered in 2018 and stated that they needed a made-in-the-NWT, trauma-informed, on the land training program," stated Rachel Cluderay, the project director.
So Cluderay sat down with Jimmy Ruttan who worked at Inuvialuit Regional Corporation at the time and Kristen Tanche at Dehcho First Nations and began to develop Supporting Wellbeing, and just two weeks ago their organization delivered a pilot facilitator training in the Dehcho.
I envision a future where on the land programmers feel more confident to create programs that support wellbeing and respond to challenges as they come up, where program participants feel safe and supported before, during, and after the land-based program, and where our communities are taking care of each other and thriving," Cluderay said.
"This award reinforces how important this work is, and will help us to leverage more funding opportunities to support our vision," she said.
For more information about the award, check out these links: